February 4, 2019
Human Capital Services' Talent Solution team members present CUPA-HR webinar
Submitted by Human Capital Services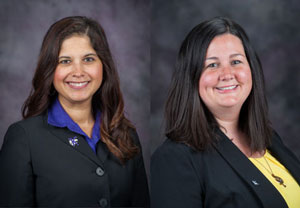 Roberta Maldonado Franzen, director of talent solutions, and Kellie Wilson, talent acquisition senior strategic partner, for Human Capital Services, will present at the College and University Professional Association for Human Resources, or CUPA-HR, webinar.
Maldonado Franzen and Wilson will present on the topic "Laying the Foundation for Building a Diverse and Inclusive Workforce." In the session they will share their experience on how to showcase diversity through institutional branding and social media, discuss sourcing metrics for best diversity hiring practices, and explain how to encompass diversity and inclusion principles in the candidate-to-new hire process.
Both Maldonado Franzen and Wilson are members of CUPA-HR and certified with Korn Ferry Leadership Architect and Interview Architect. Maldonado Franzen is a certified diversity and inclusion recruiter and Wilson is a qualified administrator of the Intercultural Development Inventory.
The webinar is hosted by CUPA-HR and is an opportunity to connect with human resources colleagues in higher education and dive in to some of the most pressing HR topics on campus.
Wilson will co-facilitate a training with Maldonado Franzen, on Feb. 13 on campus, "Resources to Attract a Highly Talented, Diverse Workforce." University employees are encouraged to enroll through HRIS self-enrollment.