January 23, 2019
Register today for the 2019 Health Professions Summit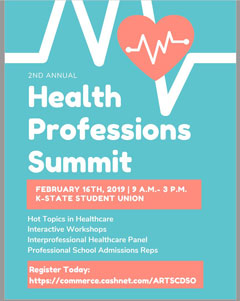 The 2019 Health Professions Summit will take place from 9 a.m. to 3 p.m. Saturday, Feb. 16, at the K-State Student Union.
This is a day of informational sessions and interactive workshops for students interested in a career in health.
The event will include seven professional schools from different health designations for students to explore what the next steps are after completing an undergraduate degree as a pre-health student.
Register to attend online. The cost to attend the event is $15. A McAlister's box lunch will be provided.
Professional schools at the event:
Creighton University School of Pharmacy
Creighton University Physician Assistant Program
KU Physical Therapy
KU Occupational Therapy
KU School of Medicine
KU School of Nursing
Southern College of Optometry
UMKC School of Dentistry