January 23, 2019
Arts and Sciences student wins national BEA scholarship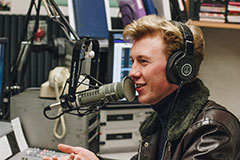 Zachary St. Clair, 91.9 KSDB-FM program director, was recently awarded a competitive national scholarship from the Broadcast Education Association, the premier international academic media organization that drives insights, excellence in media production, and career advancement for educators, students and professionals.
Ten students from 10 different campuses were awarded scholarships in the Broadcast Education Association's 2019-2020 competition. The winners were selected by the association's Scholarship Committee at its Nov. 17, 2018, meeting in Washington, D.C. St. Clair earned the Abe Veron award, which includes $3,000 toward his education.
As stated on the association's website, the award was given to three students from a national pool who showed substantial evidence of superior academic performance and potential to be an outstanding electronic media professional. The students were also required to show compelling evidence that they possessed high integrity and a well-articulated sense of personal and professional responsibility.
St. Clair is a senior majoring in English in the College of Arts and Sciences at Kansas State University. Listen to 91.9 KSDB-FM to catch St. Clair on the radio. To learn more, check out KSDB's programming list.
Photo courtesy of Mallory Taylor.