January 22, 2019
Rivera to serve on Gov. Kelly's Education Council among other state organizations
Submitted by Stephanie Jacques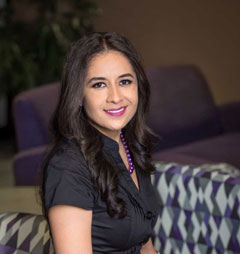 Kansas State University's Madaí Rivera, assistant director for student engagement in the Office of the Vice President for Student Life, has been invited and will serve on Kansas Gov. Laura Kelly's Education Council. The council will identify and advise Gov. Kelly on key issues regarding education access and attainment, and if the state's education system is preparing students to be profitable and successful employees. The council will identify goals, initiatives, strategy metrics and system metrics, and advise the governor on educational initiatives and policies that improve education and workforce development in Kansas.
Additionally, Rivera will serve on Kansas' first Hispanic Scholarship Fund Advisory Council in Wichita. The council is one of 28 in U.S. major cities and part of the national Hispanic Scholarship Fund, which has provided support services and nearly $600 million in scholarships to exceptional students since 1975.
Through Rivera's work with the League of United Latin American Citizens, or LULAC, the oldest Hispanic civil rights organization in the U.S, she recently was invited to collaborate with the Pretrial Justice Task Force. The chief justice of the Kansas Supreme Court has set up the task force to examine pretrial detention practices. Rivera will help foster communication with the state's Latino community as they examine best practices.
Rivera will continue her role at K-State, where she has led and implemented student recruitment and retention initiatives. She serves other similar interest committees and has helped establish several partnerships that provide scholarship opportunities for K-State students.