January 22, 2019
ECM hosts Cook for Community
Submitted by Christian Watkins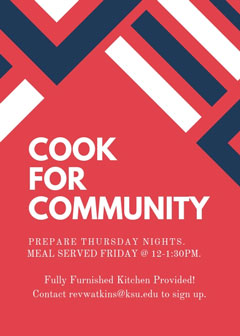 Want to share a free meal with people who will appreciate your cooking? ECM has a fully stocked kitchen and a group of students who gather together from noon to 1:30 p.m. every Friday at 904 Sunset Ave.
If you would be interested in sharing a new recipe or trying food from another kitchen, feel free to join us.
For more information contact Christian Watkins at revwatkins@k-state.edu.
ECM is a campus ministry at Kansas State University that encourages students to explore their spiritual beliefs through fellowship, study and service.