January 7, 2019
Todd Goodson recognized as Professor of the Week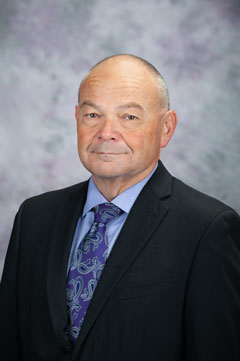 Todd Goodson, professor and chair of curriculum and instruction and assistant dean of teacher education and accreditation in the College of Education, was named Professor of the Week.
Goodson has accepted increased essential responsibilities as the college is transitioning through leadership retirements. He serves as the chair of the largest department in the College of Education and oversees all accreditation processes in the college. Goodson has published 44 articles and three book chapters, conducted 94 paper and workshop presentations, and secured nearly $3 million dollars in grant funding.
Goodson has previously been involved with teacher licensing programs in secondary English, language arts, speech, theatre and journalism. Kansas State University licenses more teachers in all areas than any other Kansas institution. Before joining the university, he was a middle and high school teacher in several communities. Goodson is married to K-State assistant professor Lori Goodson, and they have two daughters — one a K-State graduate who coaches debate at Mill Valley High School, and the other a K-State senior majoring in music education.
The Professor of the Week recognition is coordinated by Faculty Senate, the president's office, K-State Athletics and the Division of Communications and Marketing. Recipients are faculty members selected by Faculty Senate caucuses. Those selected are provided tickets to a men's home basketball game of their choosing and are recognized during halftime. This is just a small token of appreciation for those who teach at K-State.
The College of Education congratulates Goodson. He was recognized at the Jan. 2 home game.