December 3, 2018
Velasquez recognized by Educational Opportunity Association's Emerging Leaders Institute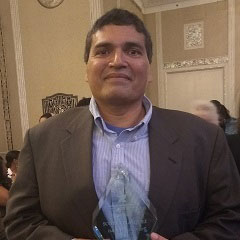 Scott Velasquez, Educational Supportive Services program/tutor administrator, was recognized at the recent 44th annual Educational Opportunity Association Conference for his participation in its Emerging Leaders Institute from 2017-2018.
Educational Opportunity Association is a Midwest association of TRIO and college access and success professionals. The purpose of the Emerging Leaders Institute is to identify and prepare association members to assume leadership positions at the chapter and regional levels, to help those individuals to grow personally and professionally, and to strengthen the association.
As part of his participation, Velasquez researched how the leadership of the Missouri-Kansas-Nebraska Chapter of association past presidents shaped the organization. He presented his research at the conference to the association's board of directors at their meeting, at one of the conference's concurrent sessions, and at the Missouri-Kansas-Nebraska Chapter Luncheon.