December 3, 2018
Personal financial planning program wins big at annual symposium
Submitted by College of Human Ecology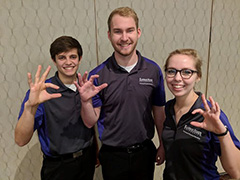 The personal financial planning program met with success at the recent Association for Financial Counseling and Planning Education symposium in Norfolk, Virginia.
For the undergraduates, the Financial Counseling Knowledge Bowl Challenge team walked away with a fourth-place finish in the finals. The team was comprised of Adam Eilert, senior; Philip Wegman, junior; and Jessica Lickteig, junior. The team earned the right to participate in the finals after an initial round where student teams submitted papers on issues in financial counseling.
The graduate students also saw success at the conference. Andrew Scott, Juan Gallardo and Chris Moore, all doctoral students, received the Student Paper Award for their paper, "Change in Financial Knowledge Post Peer Financial Counseling." This paper was chosen by a review committee that sought to identify a student authored conference paper that is of great use to the profession.
Frank Magwegwe, doctoral student, and HanNa Lim, assistant professor, received the Best Paper Award for their paper, "Theory of Planned Behavior and Retirement Preparation." This paper was awarded to the best paper presented the symposium, similarly evaluated for its ability to impact the financial counseling and planning professions.
Lastly, Allen Ammerman, a spring 2017 doctoral graduate, and Maurice MacDonald, professor, were awarded the Outstanding Research Journal Article Award for their article, "Future Orientation and Household Financial Asset Liquidity." This article was selected as the best paper published in the Journal of Financial Counseling and Planning the preceding year by the editorial staff. This is the most prestigious award offered by the journal.
"We are very proud of our students and faculty," said Martin Seay, program director. "The variety and depth of these awards are reflective of the excellence at all levels within our program."
The Association for Financial Counseling and Planning Education is the nationally recognized leader in financial counseling, coaching and education. Bringing together research, education and practice, they support the profession through comprehensive training, professional development and high-quality resources to help improve the economic well-being of individuals and families worldwide.