December 3, 2018
Beach Museum of Art to host 'Ping-Pong Tournament With a Twist!'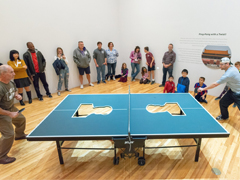 The Marianna Kistler Beach Museum of Art and the Manhattan Parks and Rec Department are co-hosting a tournament related to the interactive sculpture "Ping-Pong Mao" from 11 a.m. to 4 p.m. Saturday, Dec. 15, at the museum. Register to play, or come as a spectator.
Pick up a paddle and play "Ping-Pong Mao" by artist Zhang Hongtu. Get a taste of what it was like to live in China during the 1960s and 1970s, when Communist Party Chairman Mao Zedong ruled. To stay in the game, you must avoid the cut-outs on the table, which are shaped like the head of Chairman Mao as seen in his official portrait. Playing on this interactive sculpture simulates a life dominated by a powerful political figure. "Ping-Pong Mao" is part of the "Culture Mixmaster Zhang Hongtu" exhibition at the Beach Museum of Art. It is available for practice during museum hours, except during gallery tours.
Visit mhkprd.com/367/Ping-Pong-Mao-Tournament to register. Limited spots are available.
Cost is $10 per person and includes a T-shirt.
Contact mckee@cityofmhk.com with questions.