December 3, 2018
K-State Psi Chi chapter to host two-day hot chocolate fundraiser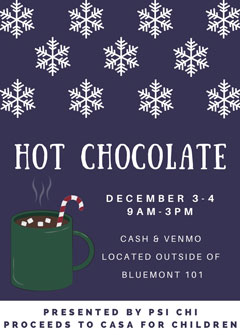 The Kansas State University chapter of Psi Chi will host a hot chocolate fundraiser from 9 a.m. to 3 p.m. Monday, Dec. 3, and Tuesday, Dec. 4, outside of 101 Bluemont Hall.
Cash or a Venmo payments of $2 or more will be accepted. Donations are welcome. All proceeds will go to CASA for Children.
Psi Chi, the international honor society in psychology, was founded with a mission to encourage excellence in scholarship and advance the science of psychology.