November 13, 2018
Philip Hardwidge chosen for Chinese higher education consortium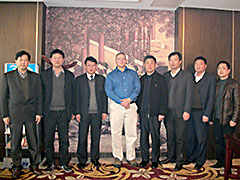 Philip Hardwidge, professor in the College of Veterinary Medicine, was recently selected as Yangzhou University's representative for the China Higher Ed "111 Plan."
His research team and the research team of Professor Zhu Guoqiang of Yangzhou University have worked closely together over the last six years and have published 16 articles in high-impact journals over that period. The Chinese Ministry of Education, together with the State Administration of Foreign Expert Affairs recently announced the 111 Plan to establish innovation centers and gather groups of first-class minds from around the world.
The plan aims to team up individuals from the top 100 universities and research institutes worldwide, with domestic Chinese research infrastructure employed to support joint projects.
"I am very thankful to be the recipient of this prestigious award and am looking forward to continued mutually beneficial research and education activities that will strengthen our international programs and contribute to the training of the next generation of biomedical and veterinary scientists," Hardwidge said.
The Ministry of Education also announced the creation of 100 innovation centers for the plan. Subjects to be covered in the innovation centers include basic sciences, technology and project management.
As a representative for this program, Hardwidge's research focuses on the pathogenic mechanisms of pathogenic microbes and the precise molecular mechanisms of interaction between pathogenic microorganisms and hosts. In recent years, he has published more than 80 academic papers in internationally renowned journals. Since 2012, the teams have conducted scientific research and joint training of international talents, and have taught Chinese doctoral science courses in English to give Yangzhou University students an advanced perspective on hypothesis-driven research. They also have provided guidance in developing experimental technology and research infrastructure.