November 13, 2018
K-State anthropologist publishes in Science magazine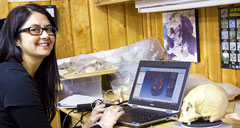 K-State anthropologist Marta Alfonso-Durruty recently published a co-authored article in Science, an internationally renowned and prestigious scientific journal, titled "Early Human Dispersals Within the Americas."
The article sheds new light on the migration and proliferation of humans as they moved from Asia into North America and beyond.
The New York Times also recently featured the article.