August 27, 2012
World-renowned artist displays work in Willard Hall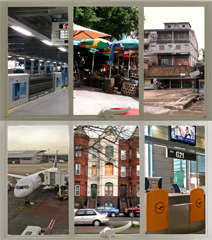 The art department is presenting the world premiere of a new art work by the celebrated interdisciplinary artist Hasan Elahi in the Mark A. Chapman Gallery in Willard Hall.
Titled "The Willard Portal," the digital work incorporates the casement windows in Willard as the framing device for moving photographic images to slide behind on six large flat screens in the gallery. Large-scale photographs also are in the exhibition.
Elahi's work examines issues of surveillance, simulated time, transport systems, borders and frontiers. He is one of the most cited and exhibited artists working with these concepts -- a rapidly expanding field in contemporary art over the past 10 years. The exhibition continues through Aug. 31 and gallery hours are 10 a.m. to 5 p.m. Monday through Friday.
Elahi will present a lecture at 4:30 p.m. Thursday, Oct. 18, in 114 Willard Hall. The lecture and exhibition are part of the annual series of visiting artist programs organized by the art department and funded in part by the K-State's fine arts fee.
An associate professor of art at University of Maryland, Elahi is also the director of digital cultures and creativity in the Honors College. His work has been presented at numerous venues such as SITE Santa Fe, Centre Georges Pompidou, Sundance Film Festival, Kassel Kulturbahnhof, The Hermitage and at the Venice Biennale. Elahi has been invited to speak about his work at the Tate Modern, Einstein Forum, the American Association of Artificial Intelligence, the International Association of Privacy Professionals and at TED Global. His awards include grants from the Creative Capital Foundation, Art Matters Foundation and a Ford Foundation/Phillip Morris National Fellowship.
His work is frequently in the media. It has been covered by The New York Times, Forbes, Wired, CNN, ABC, CBS, NPR, and he has appeared on Al Jazeera, Fox News and The Colbert Report. In 2010, he was an Alpert/MacDowell Fellow and in 2009 was resident faculty at Skowhegan School of Painting and Sculpture. He currently lives outside of Washington, D.C. roughly equidistant from the CIA, FBI and NSA headquarters.
To read more about Elahi in his own words, please visit the The New York Times.