August 27, 2012
Call for poster presentations: Institute for Student Learning and Assessment
Submitted by Frederick Burrack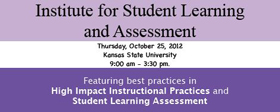 Kansas State University's office of assessment invites faculty, staff, assessment directors and graduate students to participate in the 2012 Institute for Student Learning and Assessment on Thursday, Oct. 25, at the K-State Student Union.
The institute will feature best practices in high-impact instructional practices and student learning assessment and is designed to develop intentional and integrative strategies that strengthen student learning and exhibit student achievement.
High-impact practices -- research-supported active learning practices -- are engaging to students and effective at improving achievement of learning outcomes.
Call for poster presentations
We encourage those interested in attending to submit proposals. Poster presentations will be selected through a peer review. Invited themes include but are not limited to:
effective student learning assessment practices for instructional programs, courses and/or areas of student life;
strategies to assess achievement in critical thinking, written communication, oral communication, diversity, research skills, professional integrity;
high-impact instructional practices and effective instructional strategies used as student learning assessment.
For submission, email your name, email address, title of submission and a summary of the topic by Friday, Sept. 21, to the office of assessment at assessment@k-state.edu, or for questions call 785-532-5712. The poster showcase will be 90 minutes and include a lunch buffet.
A thorough description of the expectations and requests for equipment needed will be forwarded to participants by Oct 1. For more information visit the institute's website. The schedule will be finalized the first week of October.