September 26, 2018
National bovine association presents service award to Dan Thomson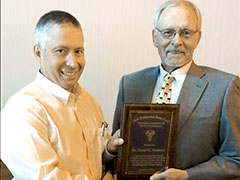 On a stifling, 108-degree day in Phoenix, Arizona, a crowd of more than 1,200 veterinarians rose to a standing ovation for the 2018 AABP-Zoetis Distinguished Service Award winner: Kansas State University's Dan Thomson.
The award was presented Sept. 15 at the 51st annual conference of the American Association of Bovine Practitioners conference.
"My thoughts were how humbling it is to be recognized when there are so many good people that probably deserve the award as much, or more, as me," said Thomson, Jones professor of production medicine in the College of Veterinary Medicine. "Lastly, I thought how proud I was to represent all the beef producers and veterinarians across Kansas and the honor it is to work and represent Kansas State University. Me and my family owe Kansas State so much for providing me a platform and support to serve others."
Bob Smith, the association's past president and current editor of its publications, said Thomson has provided extraordinary service to the beef industry and the AABP.
"He has served in numerous a leadership positions in the within the organization, and has been an exemplary spokesman for the profession and the beef industry," said Smith, who is also a 1976 K-State alumnus from the College of Veterinary Medicine. "He is a sane and effective voice representing us on numerous animal welfare and beef production issues, including serving on numerous advisory boards, public speaking, and through the 'Doc Talk' TV show. He is recognized internationally as a leader in cattle welfare and beef production medicine."
Thomson has been an active American Association of Bovine Practitioners member for 20 years. Throughout his lifetime in veterinary medicine, he has served on the association's animal welfare committee, the distance education committee and more.
"In 2008, Dawn Anderson from Kansas State and I proposed to develop an online training platform for AABP so practitioners could have access to continuing education seminars any time," Thomson said. "We developed the program, AABP invested in it and Kansas State University still hosts this tremendous practitioner tool today."
Thomson is a third-generation bovine veterinarian from Clearfield, Iowa. He earned a bachelor's degree in animal science in 1990 and a Doctor of Veterinary Medicine in 2000, both from Iowa State University. Thomson has also completed a master's degree in ruminant nutrition from South Dakota State University in 1993 and a doctorate in ruminant nutrition from Texas Tech University in 1996.
Thomson began his professional career as an associate veterinarian with Veterinary Research and Consulting Services in Greeley, Colorado. He then served as the director of animal health and well-being for Cactus Feeders in Amarillo, Texas. Thomson was the veterinary consultant for their 10 commercial feedlots that fed 1.2 million head of cattle per year and directed their animal health research at the Cactus research facility. He continues to practice feedlot medicine in Nebraska, Kansas, Iowa and Texas. Thomson is an owner/partner in PAC veterinary and research services which oversees the veterinary care, health and well-being for many U.S. cattle feeding operations.
At Kansas State University, Thomson created, founded and directed the Beef Cattle Institute. He has served as the global co-leader for McDonald's beef health and welfare committee, sits on the YUM! Animal Welfare Council, chairs the animal welfare committee of the National Cattlemen's Beef Association and serves on the animal welfare advisory board of the Food Marketing Institute, the beef quality assurance committee of the National Cattlemen's Beef Association and the animal welfare committees of the American Association of Bovine Practitioners and the Academy of Veterinary Consultants.
Thomson is recognized internationally as a leader in animal welfare, beef cattle production and cattle health management. He has published 112 peer-reviewed papers, five book chapters, 255 abstracts, 127 proceedings and progress reports at professional meetings, edited three editions of Veterinary Clinics of North America and delivered 796 invited talks internationally on his research and field experience on the interactions between production management, environment and nutrition on the health and well-being of beef cattle. Thomson's research program has been granted more than $35.3 million with $16 million of those funds coming with him as the primary investigator. Thomson has mentored 31 graduate students — 14 doctoral, 17 master's — during his 14 years at Kansas State University.
Thomson's research and outreach have been reported in many media outlets including the "CBS Evening News," USA Today, Los Angeles Times, The New York Times, Meating Place and many others. He hosted more than 350 episodes of his nationally aired veterinary television show, "Doc Talk," which is in its eighth season on RFD TV and reaches more than 45 million homes worldwide.
Thomson and his wife, Cindy, have four daughters: Kelly, Katelyn, Tory and Sarah.