September 26, 2018
Petfood Research and Development Showcase presents opportunities for faculty, students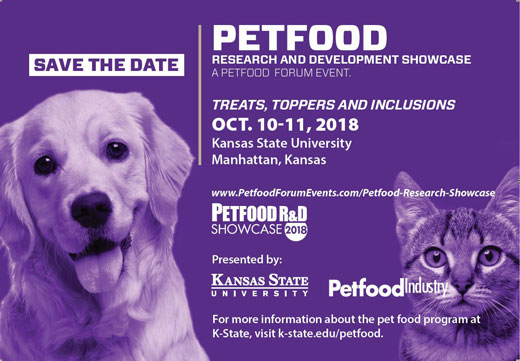 Kansas State University's growing involvement in the pet food industry is helping provide numerous opportunities for faculty and students.
The university will host the Petfood R&D Showcase, an industry-focused hands-on workshop and conference, themed "Treats, Toppers and Inclusions," Oct. 9-11 to provide an opportunity to connect K-State's expanding research presence with the needs of the pet food industry.
The events are open to students and faculty. For more information, visit k-state.edu/petfood/events. Registration for the event is now open. K-State faculty and staff receive complimentary registration via the link above.
To register:
Click "New Registration."
Use the code FACULTY in the ID code field and then click "Apply Code."
Select "Petfood R&D Showcase 2018 Attendee" registration and then continue on to enter your information.
The promo code will apply a 100 percent discount on the payment page so that registration is complimentary.
If you have questions, please contact Kiley Moody at kmoody@k-state.edu. More than 100 industry and university representatives participated in a similar event last fall.
The Petfood R&D Showcase will explore the topic of treats and supplemental additive foods and forms for companion animals. K-State faculty, industry partners and other researchers will present research and explore cutting-edge technologies that address this growing segment of the market. The second day, Oct. 11, will feature interactive labs to provide attendees with a chance to see these ideas in action — firsthand. Two evening receptions and a dine-around event at local Manhattan restaurants also will provide a setting for students, faculty, staff and pet food professionals to network.
"The event will create significant opportunities to network, stimulate innovative ideas and learn new approaches to creating extra-nutritional food forms," said Greg Aldrich, research associate professor of grain science and industry.
Globally, pet owners spend more than $70 billion on their furry friends. Of that, about $30 billion goes toward pet food, and estimates for Kansas indicate that pet food contributes as much as $7 billion to the state's economy.