September 11, 2018
Reminder: Physics Neff Lecture by American Physical Society vice president Sylvester James Gates Jr. today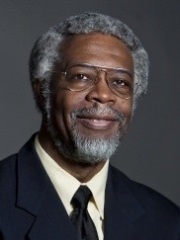 The College of Arts and Sciences' physics department will host the Neff Lecture by Sylvester James "Jim" Gates Jr. at 4:15 p.m. Tuesday, Sept. 11, in 105 Umberger Hall
Gates will present "What Abdus Salam Taught Me About Jazz." This lecture is open to the public and will be at a nontechnical level. Refreshments will be served before the lecture at 3:45 p.m. in the hallway outside of 105 Umberger Hall.
Gates is an American theoretical physicist. He received two bachelor's degrees and a doctorate from the Massachusetts Institute of Technology. He is known for his work on supersymmetry, supergravity and superstring theory. President Obama awarded Gates the 2011 National Medal of Science, the highest award given to scientists in the U.S., at a White House ceremony in 2013. During 2014, he was named the Harvard Foundation's Scientist of the Year.
The physics department looks forward to hosting Gates at this event and seeing you there. To learn more about the physics department in the College of Arts and Sciences, visit its website.