August 21, 2018
K-State Yosakoi dance group recognized as international Yosakoi ambassadors in Kochi, Japan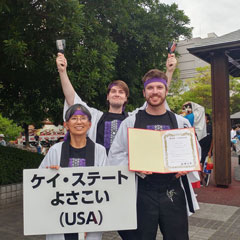 Three members of the K-State Yosakoi dance team, a registered student organization, were sponsored on an all-expenses-paid trip as international Yosakoi ambassadors Aug. 7-12 in Kochi, Japan — the birthplace of the Japanese group dance style known as Yosakoi.
The K-Staters — Club President Ryan Kenny, Vice President Calum Fletcher, and veteran club member Barbara Johnson — along with two other teams from America, one from Paraguay and one from Brazil, participated in the annual Kochi Yosakoi festival and experienced Yosakoi culture.
The ambassadors performed in the parade with the local Kochi Yosakoi team, Kokusai Kouryuutai (International Exchange Team). The K-Staters won medals for outstanding performance and were gifted costumes, special noisemakers called naruko, and a large ambassador flag for their teams to use by Kochi Yosakoi.
The program was conducted under efforts to spread awareness and popularity about Yosakoi dancing overseas to encourage internationally diverse participation in the dance and in hopes of performing Yosakoi in the opening ceremonies of the 2020 Tokyo Olympics.
The K-State Yosakoi dance group always welcomes new members. Find more information on the group's Facebook page.