June 21, 2018
Two Kansas State University publications receive international CASE awards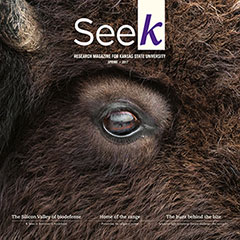 Two Kansas State University publications have received international recognition from the Council for Advancement and Support of Education, or CASE. As part of the 2018 Circle of Excellence Awards, Seek magazine received a silver award and the K-State Today e-newsletter was named a finalist in the platinum category.
The council is an international association of educational institutions. The Circle of Excellence Awards are international awards and honor outstanding work in advancement services, alumni relations, communications, fundraising and marketing at colleges, universities, independent schools and affiliated nonprofits.
"These international awards recognize the quality of collaborative work done by communicators across the university," said Jeff Morris, vice president for communications and marketing. "Our staff works hard every day to communicate K-State's land-grant mission and these awards show that we are on the right track."
Seek magazine, the university's flagship research magazine, received a silver award in the research publications category. In their report, the judges noted that Seek "had excellent content balance and focused on a select number of high-quality articles, blended writing and visuals for a cohesive issue." Kansas State University tied with the University of Essex in England for the silver award. No gold or bronze awards were given in the category.
Seek magazine is published biannually and highlights the research, scholarly and creative activities, and discoveries of Kansas State University. It is produced by designers, photographers, writers and communications staff in the Division of Communications and Marketing, K-State Research and Extension and the Office of the Vice President for Research.
"K-State has been engaging faculty, students, and external stakeholders in research for over 150 years — it's part of our land-grant heritage," said Peter Dorhout, vice president for research. "Telling the stories about how that research changes lives and livelihoods is the goal of Seek. Our outstanding team of staff make research come alive."
Kansas State University's daily e-newsletter, K-State Today, was named a finalist in the platinum category for Best Practices in Communications and Marketing. The platinum categories — separate from the Circle of Excellence awards but announced as part of the Circle of Excellence program — recognize the "best-of-the-best programs and practices in educational advancement," according to the council.
K-State Today is coordinated by the news and communications services staff in the Division of Communications and Marketing. It gives faculty and staff a single source of timely K-State announcements, events, news and research — most of which is reader submitted but edited for content, style and effective messaging by news and communications staff. It is emailed to internal audiences and posted on a webpage for external audiences.