May 3, 2018
College of Human Ecology students recognized for research and creative inquiry
Submitted by College of Human Ecology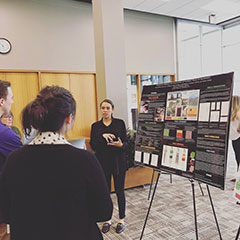 The College of Human Ecology hosted its annual Undergraduate and Graduate Research and Creative Inquiry Forums on April 18. The event is designed to allow students in both categories to display and discuss the work they have been doing in their fields.
"This is my favorite event of the year," said Michelle Toews, associate dean for research. "It is exciting to see the diversity of research and creative scholarship conducted by the students in our college."
The undergraduate forum had 11 participants representing all five departments in the college. Participants were given three minutes to review their research with a panel of judges and three minutes for questions. Awards were handed out for Top Presenter — Creative Inquiry, and Top Presenter — Research Poster.
Winning the Top Presenter — Creative Inquiry prize was Sydney Lenox, sophomore in apparel and textiles, who presented "Appropriate Inspiration of Fashion: Focus on Guatemala." Taking home the Top Presenter — Research Poster were both Alex Ptacek, senior in kinesiology, who presented "Effect of Physical Activity Over 1-Week on Peak Expiratory Flow in Asthmatic Children," and Nathaniel Faflick, junior in family studies and human services, who presented "LGBT Religiosity in Emerging Adulthood: Associations with Well-being."
The graduate forum saw 18 entries across all five departments as well. Graduate participants were limited to three minutes to review the research and two minutes of questions with a panel of judges.
Wenhao Zhang, doctoral candidate in hospitality management, took home the top prize for her poster "Are You Taking More Than You Can Eat? The Impact of Trayless Dining Implementation on Customer Satisfaction, Food Selection, and Waste Behavior." Emily Koochel, doctoral candidate in applied family science, and Adriana Lezama-Solano, master's student in human nutrition, were both awarded the runner-up award. Koochel presented "Money and Marital Satisfaction in Emerging Adults: Are We Saying Enough?" while Lezama-Solano presented "Consumers' Description of Dough Development Using the Think Aloud Technique."