December 1, 2017
Don't forget to register for K-State Family Night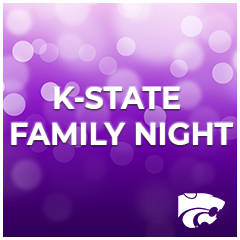 New Student Services wants to give your high schoolers an inside look at the university. K-State faculty or staff members with a high school student in their family are invited to attend K-State Family Night at 7 p.m. Monday, Dec. 11, in the Great Room of the Berney Family Welcome Center.
This will be a fun and informal opportunity for your student to visit with various representatives in New Student Services and Admissions. You and your student will have the opportunity to visit with an Admissions Representative, connect with current K-State students, and enjoy hot chocolate and desserts.
RSVP with the names of those attending by Wednesday, Dec. 6, or email questions to Morgan Isern, admissions representative, at isern@k-state.edu.