December 1, 2017
National extension agent group honors Drescher with two awards
Submitted by Division of Communications and Marketing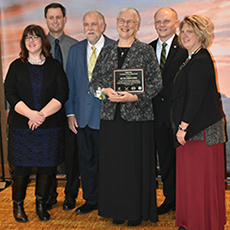 Kansas State University's Beth Drescher, a grant specialist at Kansas State Polytechnic Campus, has earned two national awards from the National Association of Extension 4-H Agents for her work as Sedgwick County 4-H youth development extension agent from 1996-2017.
At the association's annual conference Nov. 16 in Indianapolis, Drescher received the 4-H Meritorious Service Award and the 4-H Military Partnership Award.
The 4-H Meritorious Service Award is given annually to one positive youth development professional from each state who has shown outstanding leadership and service to the field of 4-H positive youth development over the course of a career of 15 years or longer.
As Sedgwick County 4-H youth development extension agent, Drescher worked with youth-serving adults and children in the Wichita area. She designed, facilitated and supported positive youth development activities and youth-serving adult training programs in schools, after-school programs, summer camps, military installations, universities and local communities. During her extension 4-H career, Drescher founded or co-founded E.A.R.T.H. Kansas, a statewide middle school environmental education program; Old Sedgwick County Fair Day at Old Cowtown Museum; Park Panther Pride 4-H Day Camp; Kansas Out-of-School Staff Training Conference; McConnell Air Force Base 4-H after-school program; and Sedgwick County 4-H school enrichment and 4-H special education clubs.
As recipient of the 4-H Military Partnership Award, an annual honor, Drescher is being recognized for her outstanding leadership and support to the partnership between land-grant universities and military installations. The award is for Drescher's work with the staff and children at the McConnell Air Force Base after-school program for 12 years. In 2016-2017, Drescher also served as K-State's extension 4-H military liaison, responsible for coordinating the statewide 4-H military program, planning and implementing the Kansas 4-H/Air Force Family Camp, and writing and managing the state 4-H military program grant.
"With Beth's involvement in our program, we have become the model for other Air Force installations on how to create partnerships with local 4-H program offices," said Heather Jaynes, director of the McConnell Air Force Base School Age Program.
4-H Military Partnerships create opportunities and provide support to military-connected youth, whether they live on or near an installation, in local communities or on overseas installations. 4-H clubs and opportunities provide consistency in belonging and an opportunity to develop life skills through a positive youth development framework. As military families move frequently and experience the difficulties surrounding deployment and reintegration, 4-H provides predictable programming and a safe and nurturing environment for military connected children and youth.
The 4-H Military Partnerships are a collaboration of the U.S. Department of Agriculture; the National Institute of Food and Agriculture; the U.S. Department of Defense; Military Community and Family Policy; Army Child, Youth and School Services; Air Force Child and Youth Programs; Navy Child and Youth Programs; the Coast Guard; and the National Guard Bureau. Land-grant universities, including K-State, partner with active duty installation programs and the National Guard and Reserve to support children and youth in their local communities. The partnerships rely on land-grant university extension faculty, called Extension 4-H military liaisons, to serve as a link between the State Cooperative Extension System, military service branches and 4-H national headquarters at the USDA.