November 10, 2017
KSUnite Nov. 14 additional information
Submitted by Division of Communications and Marketing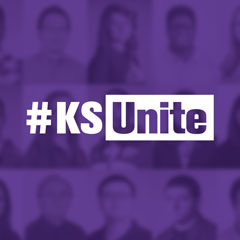 Faculty, staff and students are encouraged to attend the Unity Walk and KSUnite event from 1-3 p.m. Tuesday, Nov. 14, on the K-State Manhattan campus.
For those who are on the Polytechnic, Olathe and Global campuses and unable to attend in person, a livestream video will be available at k-state.edu/ksunite.
Employees who have questions about the events with regard to work time can visit the FAQ page for more information. Adequate security measures will be in place to secure the KSUnite event. The streets surrounding Anderson Lawn, Mid-Campus Drive, Vattier Street, and Butterfly Lane will be closed to vehicle traffic.