November 9, 2017
Magwaro and Maldonado Franzen present at state human resources conference
Submitted by Human Capital Services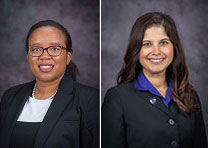 Cleopatra Magwaro and Roberta Maldonado Franzen from Human Capital Services were selected to present at the Kansas chapter of the College and University Professional Association for Human Resources, or CUPA-HR, annual conference, Nov. 9, at Kansas State University.
This year's conference theme is "Are You Inclusive?" which supports the chapter's mission of promoting excellence through collaboration among human resource professionals in higher education.
Magwaro and Maldonado Franzen will present "Measuring Diverse Applicant Pools" and share insight on tools to broaden the scope to attract a highly talented, diverse workforce. They will discuss best practices and metrics related to building a diverse applicant pool.