Documentary about area buffalo soldier now available on College of Education's YouTube channel for educational use
Thursday, Nov. 9, 2017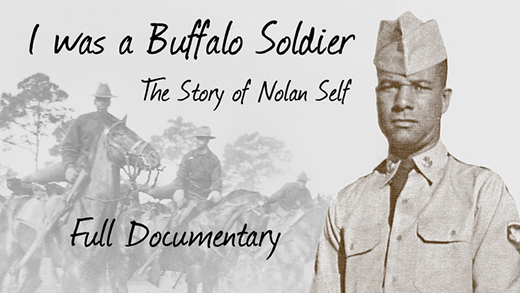 The documentary "I was a Buffalo Soldier: The Story of Nolan Self" is now available on the Kansas State University College of Education's YouTube page.

MANHATTAN — Thanks to the family of a Junction City icon, a documentary providing a firsthand account of what it was like to be a buffalo solider will be available to classrooms, military personnel and history buffs alike.

"I was a Buffalo Soldier: The Story of Nolan Self" was commissioned by Curtis Self in 2015 to tell the story of his father, Nolan Self, a longtime Junction City resident who served five campaigns in the 10th Calvary during World War II. After a two-year showing on KTWU, the Public Broadcasting System station in Topeka, the Self family has agreed to make the documentary available on the Kansas State University College of Education's YouTube page for teachers to share with their students.

"Our father was an incredible man who lived an incredible life," Curtis Self said. "If his story can inspire others to live with the hope, joy, faith, love and commitment that defined his life and it encourages people to do the same, nothing would make my dad or our family happier."

"There are few sources for education materials like this," said David L. Griffin Sr., assistant dean of the College of Education. "These personal stories draw you into a time in life that students would otherwise only to read about in passing. With this video, not only will many students learn that buffalo soldiers even existed, but they will learn what kind of lives they had before and after the war. That's a powerful resource."

Nolan Self's journey to the U.S. Army began when his mother and 10 siblings moved from Leesburg, Louisiana, to Pine Bluffs, Arkansas, after his father's untimely death. He recounts the trip with about 400 young African-American men, who were to become buffalo soldiers, on the Missouri-Pacific train from Pine Bluffs to Fort Leavenworth. It broke his mother's heart to think her son was going off to war, but that's not how Nolan Self saw it.

"The Army was a salvation to me and my family," he said. "I was glad to be a soldier."

The Army moved the 10th Cavalry to Fort Riley to train with the 9th Cavalry. That's where Nolan Self met fellow buffalo soldier and world heavyweight champion, Joe Louis. Thanks to Louis' efforts, a dance was hosted in Topeka where Nolan Self would meet his future wife, Wilma.

The couple raised eight sons and the film depicts the deep love, respect and wisdom the two have gained during their seven-plus decades together.

The College of Education invites teachers everywhere to view and share this resource of little-known American history with their classes. Additional resources will be forthcoming. View the trailer and the complete documentary at coe.k-state.edu/documentaries/buffalo-soldier.html.