November 9, 2017
Gibbon surgery at Kansas State University to appear on national TV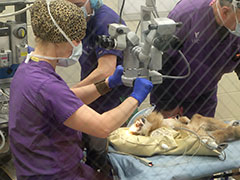 A rare cataract surgery performed on a baby gibbon ape will appear on "Scaly Adventures," a half-hour educational and informational program on the Daystar Television Network, at 11 a.m. Saturday, Nov. 11. The show is hosted by Pierce Curren and is produced by his mother and father, Tanya and Rick Curren.
The gibbon, named Booger, was born blind and is owned by Dana Savorelli, who operates Monkey Island Rescue and Sanctuary in Greenwood, Missouri, east of Kansas City. His animal sanctuary houses a variety of primates, lemurs and reptiles. The sanctuary and Booger have been featured on a previous episode of "Scaly Adventures."
Savorelli brought Booger to the Veterinary Health Center at Kansas State University earlier this year where she was initially examined by James Carpenter, professor of wildlife and zoological medicine. When it was determined the gibbon would need cataract surgery, Savorelli obtained permission from the Veterinary Health Center and invited "Scaly Adventures" to record the procedure for its viewers.
The episode will chronicle the preparation for the procedure by the Veterinary Health Center and then show the actual procedure, which was performed by Jessica Meekins, assistant professor of ophthalmology in the College of Veterinary Medicine.
The Daystar network is carried on the Cox cable system on channel 156.