September 14, 2017
K-State UAS instructor to discuss practical applications of unmanned aircraft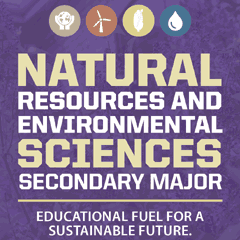 Trevor Witt, unmanned aircraft systems data analyst and flight instructor in the Applied Aviation Research Center at Kansas State Polytechnic, will give a public lecture at 11:30 a.m. Thursday, Sept. 21, in 231 Ackert Hall.
Riding a wave of technological advances and sometimes oversold capabilities, unmanned aircraft systems are now becoming widely implemented throughout the world. The seminar will highlight promising applications of UAS, while maintaining a realistic view toward this technology's power to improve the world around us.
This talk is being presented for students participating in the capstone course of the natural resources and environmental sciences secondary major and is open to the general public as part of the NRES Seminar Series. Undergraduate students interested in natural resources, environmental science and sustainability issues are especially encouraged to attend.
The natural resources and environmental sciences secondary major and its seminar series are generously supported by the Office of the Provost, College of Agriculture, College of Arts and Sciences, and the biological and agricultural engineering department.