March 30, 2017
Kansas State University students nominated for Udall Undergraduate Scholarship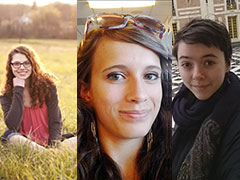 Three Kansas State University students are nominated for the Udall Undergraduate Scholarship: Jael Whitney, Kansas City; Daria Hagan, Wichita; and Amber Berg, Centertown, Missouri.
The Udall Foundation awards scholarship to college sophomores and juniors who are interested in careers in public service and leadership related to the environment or Native American nations. In 2017, the foundation plans to award 60 scholarships worth up to $7,000 each.
Berg is a sophomore in regional and community planning. She has conducted undergraduate research that compares transportation modal rates among U.S. universities to find trends that encourage sustainable travel. She hopes to encourage sustainable development, possibly through bicycle infrastructure, green roofs and energy-saving strategies for public buildings. Berg is the vice president of the Student Planning Association and the secretary of Students for Environmental Action. She is a member of the University Honors Program and received spring 2016 semester honors. A 2015 graduate of Bowling Green High School, she is the granddaughter of Candace McClure, Centertown.
Hagan is a sophomore in animal sciences and industry. She plans to pursue zoonotic medicine to increase population numbers of endangered species, which play key roles in their ecosystems. She is the community service chair of the Kansas State University Pre-Vet Club and is a Zoo Corps volunteer at Sunset Zoo. She has received the Putnam Scholarship and fall 2016 semester honors. A 2015 graduate of Andover High School, she is the daughter of Stephen Hagan, Colorado Springs, Colorado, and Megan Wright-Hagan, Wichita.
Whitney is a junior in marketing and a member of the Choctaw Nation of Oklahoma. She is interested in communication methods that advocate for tribal and natural resources. She is the treasurer of the American Indian Science and Engineering Society and the president of the K-State Library Ambassadors. She also is a member of the Multicultural Business Student Association and the College of Business Administration Study Abroad Advocates. She has received the Koch IMPACT Scholarship, the Putnam Scholarship and semester honors since fall 2014, and she is a member of the University Honors Program. A 2014 graduate of Upward Bound Academy Homeschool, she is the daughter of Nathan and Patricia Whitney, Overland Park.