March 30, 2017
'Chisholm Trail: History & Legacy': K-State Libraries exhibit opens Saturday
Submitted by Sarah McGreer Hoyt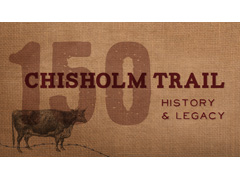 Git along, little dogies! This spring, K-State Libraries will join organizations across the region in celebrating the 150th anniversary of the Chisholm Trail.
"Chisholm Trail: History & Legacy" opens Saturday, April 1, just in time for the All-University Open House. The exhibit will be on view from 10 a.m. to 2 p.m. in Hale Library's fifth floor gallery. Artifacts, books, maps and photos give visitors a glimpse into Kansas' Wild West era and its turbulent relationship with the Texas cattle trade.
From 1867 to 1885, the Chisholm Trail, which ran from southern Texas through Oklahoma and Kansas, was the primary route for Texas ranchers to drive their herds north to the railways that shipped their longhorns to eastern markets. Over the years, the Chisholm Trail terminated in various Kansas towns, including Abilene, Newton, Wichita and Caldwell.
The trail itself was established by fur trader Jesse Chisholm, 1805-1868. Chisholm originally scouted and marked parts of the trail between 1838 and 1858. He used the route to supply Native American trading posts and to deliver Texas cattle to Confederate forces during the Civil War.
Following the Civil War, an enormous glut of livestock in the Lone Star State drove prices to record lows, and Texans were motivated to get their cattle to more profitable markets.
Entrepreneur Joseph "Cowboy" McCoy, 1837-1915, saw great potential for transporting Texas cattle to the eastern United States. He purchased more than 200 acres around Abilene, Kansas, and established a hotel, stockyards and stables. In 1866, he advertised in Texas newspapers that he could ship southern cattle eastward at good prices. He claimed that the Chisholm Trail, which ended very near to Abilene, was the ideal route.
The Chisholm Trail era was born.
After this Saturday's special K-State Open House event, "Chisholm Trail: History & Legacy" will be open to the public 8 a.m. to 5 p.m. Monday through Friday through Oct. 13. The exhibit is free.
"Chisholm Trail" includes selections from K-State Libraries' Richard L.D. and Marjorie J. Morse Department of Special Collections, the Kansas City Museum and K-State's Historic Costume and Textile Museum. For more information, contact libsc@k-state.edu.