March 1, 2017
K-State documentary tells the story of Kansas Ag pilots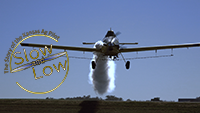 Tom Hallaq, producer/director and assistant professor, announces the premiere of the documentary, "Slow & Low: The Story of the Kansas Ag. Pilot" at 3 p.m. Wednesday, March 1, in Hale Library's Hemisphere Room.
Once called "crop dusters" these skilled, precision pilots have watched their industry mature to become a vital support to farmers found not only in Kansas but across the heartland of America. Ag pilots aren't just good pilots. They are a key component to the agriculture process and keenly aware of the food shortages around the world and the challenges faced by all in the agriculture industry to meet those challenges.
An agriculture airplane is a specially designed aircraft. Often powered by turbine engines, these planes can carry as much as 800 gallons of crop protecting product. They are designed for power and precision. The pilots who fly them often put themselves at risk just by sitting in the cockpit. But it is work they know must be done in order for crops to grow well.
After nearly two years of researching, interviewing and filming, this story is ready to be told. This 30-minute documentary tells the story of the Kansas Ag pilots in their own words. If you are a farmer, a pilot or just interested in people, you will want to see this documentary.
The production of this documentary was made possible by funding from the Academic Excellence Grant through the Office of the Provost. The premiere is sponsored by the Kansas Agriculture Aviation Association.
For more information about the "Slow & Low" documentary, contact Hallaq at thallaq@k-state.edu.