March 1, 2017
Celebrate the march toward critical thinking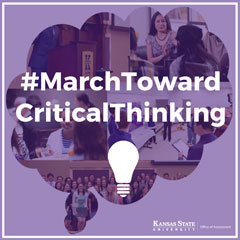 The K-State Teaching and Learning Center has recently named 2017 as the "Year of Critical Thinking." This year kicked off with the recent "Teaching Critical Thinking to College Students within the Logic of One's Own Discipline" workshop.
Hosted by the Faculty Exchange for Teaching Excellence, the workshop featured a variety of guests and speakers, including Gerald Nosich, author of "Learning to Think Things Through: A Guide to Critical Thinking Across the Curriculum." Most recently, the Feb. 16 workshop, "Designing Multiple Choice Assessments for Critical Thinking," further emphasized the efforts of K-State in the "Year of Critical Thinking."
March promises to be the biggest endeavor yet, featuring two major events: SPOTLIGHT K-State and a two-day workshop, "Designing Rubrics to Teach Critical Thinking." To become a part of the critical thinking work at K-State, please plan to attend these events and engage on social media with the hashtag #MarchTowardCriticalThinking.
SPOTLIGHT K-State is a showcase event which began in 2013. Highlighting the innovative, creativity and uniqueness in teaching on campus, the event features 10 speakers who are introduced by one of their students.
According to the event website, the presenters are selected from teaching faculty across the university and represent many colleges, teaching ranks and curricula. Each presenter provides a visual portrayal illustrating their topic, which is presented in about six minutes. Often they begin with a problem encountered in their teaching followed by an inventive successful solution.
SPOTLIGHT K-State will be at 7 p.m. Tuesday, March 7, in Forum Hall at the K-State Student Union. K-State President Richard Myers will sponsor the evening.
"Designing Rubrics to Teach Critical Thinking," led by the Office of Assessment's director, Fred Burrack, will be from 3-4 p.m. March 15-16 in 209 K-State Student Union.
More information can be found at the Office of Assessment events page and Twitter page.