January 25, 2017
K-State Police and K-State Libraries host safety talk series
Submitted by Sarah McGreer Hoyt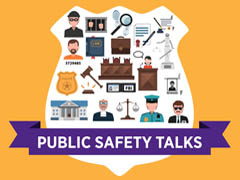 The entire campus community — students, faculty, staff and friends — is invited to join K-State Police and K-State Libraries for a series of noontime talks about the campus' public safety issues.
All talks take place noon to 1 p.m. in Hale Library. Participants are invited to bring their lunch; cookies and other refreshments will be provided by Einstein Bagels in Hale Library.
Spring 2017 public safety talks include:
Education 911: Friday, Feb. 3, in 301 Hale Library, with Heidi Schneider, communication special supervisor for the K-State Police Department. Be someone's savior: 911 is only as good as the person asking for help. Learn what it takes to be the lifeline necessary to provide effective and timely help for you, your friends, family and even strangers.
C.R.A.V.E.D. Theft: Thursday, Feb. 23, in 401B Hale Library, with Officer Randy Myles, K-State Police Department. The K-State Police Department strives to educate our campus community to recognize and reduce their vulnerability of theft through preventative actions on campus. Do you know which of your belongings are CRAVED?
Healthy Relationships: Monday, Mar. 6, in 401B Hale Library, with Jenny Yuen, WellCat Ambassador. While navigating new friendships and romantic relationships on campus, students may find themselves in situations that make them unhappy, compromise their self-esteem and involve conflict. This workshop aims to build healthier relationships by assisting students in clarifying their values and self-esteem; recognizing signs that may indicate an unhealthy relationship; and finding on-campus resources for assistance. Faculty and staff are encouraged to attend to learn about what's available to support students they interact with.
Fire Safety: Wednesday, Apr. 19, in 401B Hale Library, with Randy Slover, K-State Public Safety, and Rick Stillwagon, Manhattan Fire Department. While leaving a building during a fire alarm or drill did you ever wonder what you would do if your egress was blocked? Do you have a "Plan B"? If you couldn't leave the building, how would you communicate your location to the emergency responders? Did you ever wonder about the meaning of specific fire codes and why they are enforced? If these topics interest you — or even if you just want to learn how to operate a fire extinguisher — please join us.