April 9, 2012
A salute to warriors: Students earn high finish at Bataan Memorial Death March
Submitted by Communications and Marketing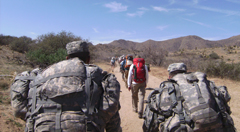 Two Kansas State University Army ROTC cadets have placed highly in a race to honor servicemen who defended the Philippine Islands during World War II.
The Bataan Memorial Death March was March 25 in White Sands, N.M. The 26.2-mile race goes through the desert of the White Sands Missile Range. It's conducted each year in memory of a group of World War II soldiers who were responsible for the defense of the islands of Luzon and Corregidor, as well as the harbor defense forts of the Philippines. The soldiers fought in a malaria-infested region and survived on half or a quarter of the usual food rations, often with little or no medical help.
The first march had just 100 participants at its inception, but has now grown to include around 7,000 marchers from all across the United States and several foreign countries. It is still primarily a military event, but a large number of civilians participate as well. Some marchers participate to foster esprit de corps among their unit, or even in memory of a family member or particular veteran who was in the actual Bataan Death March in World War II, where nearly 80,000 Filipino and American prisoners of war were forced to march 65 miles to an inland prison camp in the Philippines by the Japanese army. The march resulted in the deaths of thousands.
Kansas State University Army ROTC cadets have participated in the event for more than 10 years. Ten cadets participated this year, beginning their training for the race in November 2011.
Finishing second in their age group for the race were Morgan Moxley, freshman in arts and sciences-open option, from Leavenworth, and Megan Walden, junior in industrial engineering, from Wichita.
Other university ROTC cadets who participated in the 2012 Bataan Memorial Death March included:
James Mikaloff, junior in construction science, De Soto; Jacob Wright, junior in athletic training, Junction City; John Swanson, senior in political science, Leavenworth; Joshua Oelschlaeger, senior in political science, Linwood; Daniel Gremillion, freshman in history, Overland Park; Kyle Dietrich, senior in political science, Paola; and Joshua Cox, sophomore in history, Wakefield.
From out of state: Scott Johnson, junior in political science, Papillion, Neb.