December 5, 2016
Kansas State University student earns Phi Kappa Phi Study Abroad Grant to study in Prague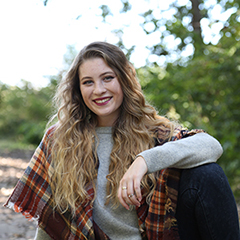 A Kansas State University student has received a study abroad grant from one the nation's oldest and most selective collegiate honor societies.
Brooke Boyington, senior in family studies and human services, Phillipsburg, is one of 26 students nationwide to earn the Phi Kappa Phi Study Abroad Grant.
The $1,000 award provides ambitious, accomplished students the opportunity to study abroad. Boyington will use the grant to spend a semester studying at Charles University in Prague, Czech Republic.
"Brooke is the 25th student from K-State to receive a Phi Kappa Phi Study Abroad Grant since its inception in 2002," said Jim Hohenbary, director of the Office of Nationally Competitive Scholarships. "It is always exciting to see our students seeking out global experience, and I appreciate that this grant will help Brooke as she seeks to develop an international perspective."
Throughout her collegiate career at Kansas State University, Boyington was social chair of the K-State Rodeo Club, vice president of Phi Eta Sigma Honor Society and a volunteer in the International Buddies program. She is a member of the National Society of Collegiate Scholars and the Family Studies and Human Services Association. Additionally, she is a Eucharistic minister and hospitality volunteer at St. Isidore's Catholic Student Center.
Boyington has experience challenging herself to go further than most would dare. In summer 2016, she climbed her first 14er — a peak exceeding 14,000 feet — in the Rocky Mountains of Colorado.
"As a 14er requires training and exercise beforehand, studying abroad requires plenty of forethought in planning and paperwork," Boyington said. "Summiting the 14er was so stellar, it provided a view and feeling like none other. Likewise, I expect this study abroad journey to test my skills, but I know the summit will be extraordinary."
She has received several honors, including: Tutors Make a Difference Award, Phi Eta Sigma National Scholarship, Community Assistant of the Month for the Strong Community, R. Warren Scholarship, P. Bissell Memorial Scholarship and the Achievement Award.
"I am immensely honored to have this opportunity to study abroad — an experience I've been dreaming of since my freshman year at K-State," Boyington said. "I admire the Phi Kappa Phi organization for recognizing the excellence in diverse study abroad experiences, so I thank them especially for creating this distinct grant."
To learn more about competing for grants, scholarships and awards, contact Hohenbary at jimlth@k-state.edu.