September 27, 2016
John Robison to present lute recital and lectures on Asian music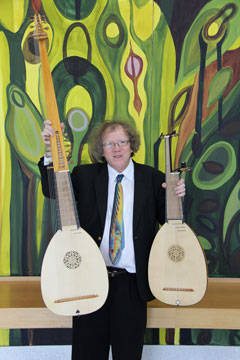 John Robison, professor of musicology and director of the Early Music Ensemble at the University of South Florida, will present a recital of Renaissance and Baroque music for lute and archlute at 7:30 p.m. Tuesday, Sept. 27, in 204 Kirmser Hall in the McCain Auditorium music wing. He will be assisted by mezzo-soprano Patricia Thompson, assistant professor of voice at K-State, in music by Thomas Campion, Robert Jones, Antonio Cesti and Alessandro Stradella.
While at K-State, Robison also will speak about the travails of publishing books on intercultural composers at 1:30 p.m. Tuesday, Sept. 27, in 104 McCain Auditorium; on the life and works of John Mayer at 2:30 p.m. Tuesday, Sept. 27, in 104 McCain Auditorium; and on contemporary women composers from Korea at 9:30 a.m. Wednesday, Sept. 28, in 201 McCain Auditorium. Robison's recital and all three presentations are free and open to the public.
A versatile musician who performs professionally on plucked string, bowed string and woodwind instruments, Robison has performed numerous solo Renaissance lute recitals over the past 42 years. Robison also performs regularly on the viola da gamba, Renaissance/Baroque recorders, Renaissance double reeds — krummhorn, rauschpfeife, shawm, racket, curtal — Baroque oboe, and oboe/English horn.
Robinson's research interests include Renaissance lute music, German Renaissance composers, the development of the fugue, performance practices and contemporary composers from diverse African, Asian and Latin American cultures. In addition to countless articles, his publications include "A Festschrift for Gamal Abdel-Rahim," Binational Fulbright Commission, 1993; "Johann Klemm: Partitura seu tabulatura italica," A-R Editions, 1998; and "Korean Women Composers and Their Music," College Music Society, 2012.
He is currently completing a scholarly edition of the works of Jacob Meiland, 1542-77, for the American Institute of Musicology, and recently finished a book on John Mayer, 1929-2004, an Indian/British composer who combined jazz and Indian elements. Two of his most recent book projects are on Chinese composers Zhu Jianer, born 1922, and Wang Xilin, born 1937.
Robison's residency is sponsored by the School of Music, Theatre, and Dance's Jeffrey Ward, director.