September 27, 2016
Expert presents Sept. 29 on the effects of politics, law, finance on public education
Submitted by Communications and Marketing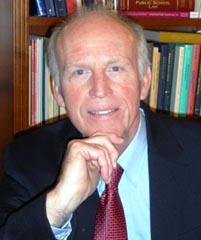 One of the nation's leading experts in the field of education finance will present on campus this week, shedding light on the key factors that have created the education funding issues that K-12 and higher education institutions are facing today.
Kern Alexander, College of Education excellence professor at the University of Illinois, Urbana-Champaign, will present "The Rise and Decline of the Public School Ideal in America: Politics, Law and Finance" at 9:30 a.m. Thursday, Sept. 29, in Forum Hall. The event is free and the public is invited to attend. Alexander was invited to speak as part of the K-State College of Education's Distinguished Educational Research Lecture Series.
David C. Thompson, professor, chair of the department of educational leadership and Elvon G. Skeen chair, nominated Alexander as this year's distinguished lecturer, and the faculty quickly approved the nomination.
"It is a true honor to have an esteemed colleague like Dr. Alexander at K-State," Thompson said. "Dr. Alexander's presentation will be about litigation trends, policy at its highest meaning, and about the conflict between governmental branches and separation and usurpation of powers. He will relate the national trends to what is happening in Kansas, which will provide timely and rich context to the conversation since just last week the Kansas Supreme Court heard oral arguments about school funding."
Alexander is the author, co-author or editor of 30 books including "American Public School Law," "The Law of Schools, Students and Teachers," and "Public School Finance." He has provided expert testimony in the landmark case of DeRolph v. State of Ohio, and the Supreme Court of Kentucky quoted Alexander's definition of an efficient school system when it ruled on what constituted adequate school funding.
Alexander has served as a professor at the University of Florida, a university distinguished professor at Virginia Tech and as Robinson eminent scholar's chair at the University of North Florida, Jacksonville. In addition, he has served as president of Western Kentucky University, Bowling Green and Murray State University.
More information about Alexander is available on his faculty website.