September 27, 2016
College of Education premieres documentary about social justice in education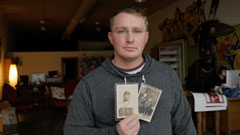 Five people from remarkably different backgrounds are the subject of the College of Education's latest documentary about what attracted them to teaching.
"A Walk in My Shoes: Social Justice in Education" will be streamed live during the Oct. 3 premiere at 1:30 p.m. in Forum Hall, and topics traverse issues from equity for students with special needs to mascots to school funding. The trailer is available online, and the full-length film will be available after the premiere.
The documentary features College of Education faculty members James Teagarden and Amanda Morales, College of Education graduate students Teara Lander and Alex Red Corn, Pawhuska, Oklahoma; and early-career teacher Eli Schoeman, Kansas City, Missouri. Each member of this diverse group reveals the moment, observation, or event that drew them to the field of education.
Debbie Mercer, dean of the College of Education, said this film is a powerful tool for uniting people who are passionate about equity and inclusion and what they mean in the classroom.
"I am excited about this documentary because it offers a rare look into the lives of teachers and the deeply personal reasons they chose this profession," Mercer said. "Every teacher was once a student, and who knows what moment in a classroom may inspire a child to teach."
Rusty Earl, college videographer and film director, echoed Mercer's sentiments.
"Most teachers have a back story that people will likely never know, and I can't help but think about the many lives that have been changed by teachers and their families," Earl said. "I used to think making documentaries was just about sharing someone's story, but now I realize the power lies in opening people's hearts and minds and bringing focus and clarity to real-world situations that many of us may have not encountered or considered."
About the video participants:
Teagarden, associate professor of special education, counseling and student affairs, was a successful business owner in Kansas City, Kansas, when a comment made by a regular customer, who happened to be a teacher, changed the trajectory of his life.
Morales served the college as an assistant professor and diversity coordinator before accepting a position this fall with the University of Nebraska–Lincoln. Morales, who grew up in Hoxie, Kansas, tells how her background inspired her to become an educator.
Lander shares how her life as a military-connected child traveling the world and a chance meeting with President Bill Clinton inspired her to dream big.
Red Corn is a member of the Osage Nation and provides valuable insights into the lives of indigenous people. He offers his perspective on important social issues like Native American imagery used as mascots.
Schoeman, a first-year teacher, details difficult events in his childhood and his personal mission to help each child feel treasured and succeed.