June 29, 2016
College of Arts & Sciences announces new director for School of Music, Theatre, and Dance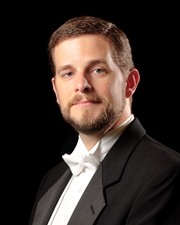 The College of Arts & Sciences has announced Jeffrey Ward as the new director for the School of Music, Theatre, and Dance.
Ward begins his appointment on July 1 for the 2016-2017 academic year.
"I look forward to working with Dr. Ward," said Amit Chakrabarti, interim dean of the College of Arts & Sciences. "Jeff will bring in a wealth of leadership experience and is the right choice to lead our School of Music, Theater, and Dance."
Ward most recently served as the associate dean of assessment in the College of Fine Arts and Communication and the associate director of the School of Music at East Carolina University in Greenville, North Carolina. He received his Doctor of Musical Arts in music education, conducting, from Shenandoah Conservatory in Winchester, Virginia; his Master of Music in choral conducting from East Carolina University in Greenville, North Carolina; and his undergraduate degree in music education from Rollins College in Winter Park, Florida.
Ward's research focuses on accreditation, assessment and pedagogy for music education. Ward has published in national choral and music education journals, including the Choral Journal of the American Choral Directors Association, and presented music education research in Brazil, Canada, China, Germany, Greece, Taiwan and throughout the United States. He has twice been awarded research and creative activity grants by the East Carolina University College of Fine Arts and Communication for his development of choral adjudication training and research in music assessment. He also is a two-time past nominee for the UNC Board of Governors Excellence in Teaching Award.
Ward is chair-elect of the Measurement, Evaluation, and Assessment Special Research Interest Group of the National Association for Music Education, a member of the selection committee for the International Symposium for Assessment in Music Education, and project leader for the Beginning Teacher ASPA of the Society for Music Teacher Education. He also holds memberships in the International Society for Music Education, Pi Kappa Lambda, Omicron Delta Kappa and Phi Mu Alpha Sinfonia.
Ward replaces Kurt Gartner, professor of percussion, who served as interim director during the 2015-2016 year. Gartner will continue his teaching, research, and creative activities in the school.