June 29, 2016
Holderness appointed senior director of development for College of Veterinary Medicine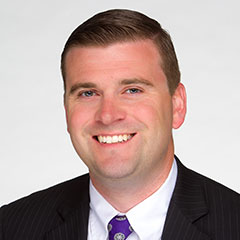 The KSU Foundation recently announced the promotion of Eric Holderness to senior director of development for the College of Veterinary Medicine.
Holderness joined the foundation in 2013, where he served as a development officer for the College of Arts & Sciences and then became director of development for the college. As a key member of the development team, he helped achieve three straight years of record fundraising success. Before joining the foundation, Holderness worked with K-State Athletics and the Ahearn Fund.
Holderness received a master's degree in college student personnel in 2011 from K-State and his bachelor's degree in advertising from K-State in 2009. He achieved the Certified Fundraising Executive certification in 2015.
"We are pleased to welcome Eric in his new role at the College of Veterinary Medicine," said Tammy Beckham, dean of the college. "A key component to the achievements of this college, now and in the future, is a strong philanthropic foundation, and we look forward to Eric's leadership in this capacity."
Philanthropic contributions to K-State are coordinated by the Kansas State University Foundation. The foundation staff works with university partners to build lifelong relationships with alumni, friends, faculty, staff and students through involvement and investment in the university.