March 1, 2016
Fiction writer Rebecca Curtis to read from her work on Thursday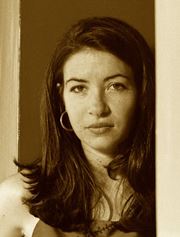 On Thursday, March 3, fiction writer Rebecca Curtis will read from her work at 7 p.m. in the K-State Student Union's Flint Hills Room.
Curtis is the author of the short story collection "Twenty Grand and Other Tales of Love & Money," a New York Times Notable Book and an L.A. Times Best Book. Curtis' fiction and essays have appeared in The New Yorker, Harper's, Esquire and elsewhere. She has received a Rona Jaffe Foundation award for emerging women writers and a Saltonstall Grant.
Curtis earned her Master of Fine Arts from Syracuse University and a master's in English from New York University. She currently teaches at Columbia University.
"Rebecca Curtis's fiction is smart, crisp, often unsettling. The protagonists in her short stories are young women navigating a world that's all-too-often hostile to young women: her stories are both funny and deeply politically important," said Dan Hoyt, director of the Creative Writing Program and associate professor of English.
"Rebecca is one of those rare writers who can cross the barrier from realism into the fantastic (sometimes even the outlandish or the surreal) without losing her style or her substance. She's a terrific and artful writer," Hoyt said.
Curtis' reading is sponsored by the English department. The event is free and open to the public. A book signing will follow the reading.