March 1, 2016
Join the Friends of the K-State Libraries for 'Constructing the Future'
Submitted by Sarah McGreer Hoyt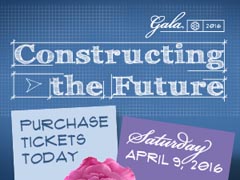 Join the Friends of the K-State Libraries for "Constructing the Future," a jubilant celebration of food, music, architecture and academic success.
At 6:30 p.m. Saturday, April 9, gala attendees will experience a festive evening in Hale Library's Great Room.
Included in the ticket price: hors d'oeuvres, an excellent full dinner, dessert, wine and beer; the crowd-pleasing sounds of the Red State Blues Band; and complimentary valet parking.
The evening also includes a donation drawing of prizes that will appeal to everyone from the foodie to the K-State sports fan to the cultural connoisseur. Funds will help us renovate existing spaces to better serve K-State students and realize our blueprint for the future of Hale Library.
Casual attire recommended.
Tickets are on sale now through March 25. Act now because we won't be able to pound a single nail without support from our crew. Follow K-State Libraries on Facebook, visit www.lib.k-state.edu/gala, or contact Darchelle Martin at martin05@k-state.edu or 785-532-7442 for more information.
If you can't attend the gala but would like to make a gift, visit www.found.ksu.edu/give/librarygala.