September 17, 2015
Chwen Sheu named interim associate dean for academic programs in College of Business Administration
Submitted by Brent Fritzemeier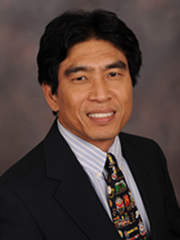 The College of Business Administration has named Chwen Sheu as its interim associate dean for academic programs.
Sheu has been a part of the college's faculty for the past 25 years, starting as an assistant professor of management in 1990. He served as the head of the department of management from 2011-2014, and has held the Paul B. Edgerley endowed chair since 2004.
"We are excited to welcome Dr. Sheu into the role of interim associate dean for academic programs," said Kevin Gwinner, interim dean of the College of Business Administration. "Chwen's prior administrative experience and vast experience on various K-State committees make him especially well-suited for this critical role in the college."
Sheu has been the recipient of multiple awards and honors in his time at K-State, including the Kansas State Bank Teaching Award in 2009, Ralph Reitz Outstanding Undergraduate Teaching Award in 2003, and the Commerce Bank Outstanding Undergraduate Teaching Award, 2002. He also has served on more than 20 committees, providing invaluable service to the university.
In his role as interim associate dean for academic programs, Sheu will be tasked with providing strategic and academic leadership for the college. He is charged with overseeing the college's Master of Business Administration and online Professional Master of Business Administration graduate programs, its research efforts, and the college-level components of undergraduate programs — in addition to many other duties.