March 23, 2015
Veterinary Medicine student wins free mini iPad
Submitted by Division of Communications and Marketing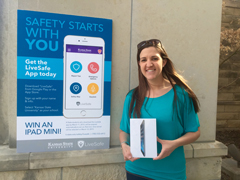 Congratulations to Malaina Lough, third-year veterinary medicine student, for winning the free mini iPad from the LiveSafe drawing.
LiveSafe is Kansas State University's new safety app that is free to students, faculty, staff, visitors, parents and community members. The app enables smartphone users to anonymously send text, photo and video tips to campus police; have friends and family monitor their walks using GPS; find campus safety procedure and resources; and more.
The K-State Police Department is already receiving tips from LiveSafe users, helping make campus a safer place.
LiveSafe can be downloaded on any iPhone and Android-based device through iTunes or Google Play.