March 23, 2015
Lesbian and Gay Veterinary Medical Association hosts filmmaker and showing of 'Bridegroom' documentary film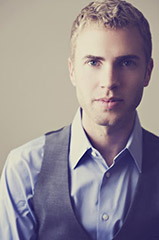 At the invitation of the K-State Lesbian and Gay Veterinary Medical Association, Shane Bitney Crone from the powerful documentary "Bridegroom" will visit the university. His visit will include a showing of the film at 2 p.m. Sunday, March 29, in Forum Hall at the K-State Student Union. It will be followed by a candid and interactive discussion with the audience.
The show is free and open to the public. Seating will be on a first-come, first-served basis, with the doors opening at 1 p.m. "Bridegroom" was directed by Linda Bloodworth-Thomason and examines the relationship between Crone and Tom Bridegroom, who died when he fell off a rooftop while taking photos of a friend in 2011.
"If you have not seen this film, it is an extremely powerful and emotional tale of what can happen when marriage is denied between two people in love," said Cory Haigh, second-year veterinary student and vice president of the Lesbian and Gay Veterinary Medical Association. "We feel this will be an incredible experience to promote equality among all people."
Following the event, the audience will be invited to Aggie Station, 1119 Moro St., in Aggieville for a greeting session with Crone.
Croon's bio is available at http://shanebitneycrone.com/bio/.