March 23, 2015
Scholar erin Khue Ninh presents keynote lecture for 24th Annual Cultural Studies Symposium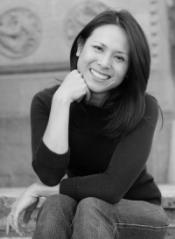 On Wednesday, March 25, erin Khue Ninh, associate professor of Asian American studies at the University of California, Santa Barbara, will present the lecture "Autobiography by Indirection: The Debt-Bound Daughter of Ingratitude" at 4 p.m. in 013 Leasure Hall.
Ninh completed both her bachelor's and doctoral degrees in English at University of California, Berkeley, and held a UC President's Postdoctoral Fellowship in the English department at UCLA. Her research and teaching explore power, harm and subject formation in Asian American literature and culture, whether in the contexts of terror and war, of family and immigration, or of girlhood and beauty.
Ninh's book, "Ingratitude: The Debt-Bound Daughter in Asian American Literature," won the 2013 Literary Studies Book Award from the Association for Asian American Studies.
"Ninh takes the rage of children against their parents seriously, and seeks to understand its expression in tales by rebellious daughters," according to Michele Janette, head of women's studies and associate professor of English.
Janette continued, "Ninh's structural analysis of the immigrant nuclear family is useful for anyone wanting to understand family dynamics in relation to economic forces, immigration debates, and intersecting pressures on race, class, and gender."
Ninh's lecture is the keynote presentation for the 24th annual Cultural Studies Symposium, an event organized by the program in cultural studies in the department of English. The symposium is the longest running cultural studies conference in the United States.
In preparation for the symposium, an interdisciplinary group of Kansas State University faculty and graduate students host a series of mini-seminars in the fall semester to discuss the work of a foundational cultural theorist. The symposium includes a final mini-seminar and a lecture by a contemporary theorist of cultural studies who draws upon that foundational work.
"This year, the cultural studies mini-seminars centered on the work of Stuart Hall, one of the founders of the Birmingham School of Cultural Studies," said Tanya Gonzalez, director of the program in cultural studies and associate professor of English.
"Hall's work touches on issues of race and class, particularly as it relates to postcolonial and diasporic experiences, popular culture, and Marxist critique. Many of these issues and topics are reflected in Ninh's work. In the Cultural Studies Symposium we expect a lively discussion of Ninh's important contributions to studies of immigration, identity and the family as a social and cultural construct," said Gonzalez.
The Cultural Studies Symposium is sponsored by the English and women's studies departments. It is free and open to the public.