January 26, 2015
Union Pacific executive Eric Butler to speak at College of Business Administration's Diversity Lecture Series
Submitted by Brent Fritzemeier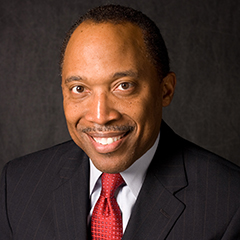 Eric Butler, executive vice president, marketing and sales for Union Pacific, will be the spring 2015 speaker for the Kansas State University College of Business Administration's Diversity Lecture Series.
Butler's lecture will begin at 10:30 a.m. Wednesday, Jan. 28, in Forum Hall at the K-State Student Union. The event is free and open to the public
Butler was named to his current position in March 2012 and is responsible for Union Pacific's six major business units: agriculture, automobiles, chemicals, coal, industrial products and intermodal. Collectively, the business units account for nearly $20 billion in annual revenue. He also oversees the railroad's National Customer Service Center.
Previously, Butler had been vice president and general manager, industrial products, a position he had held since April 2005, after serving two years as vice president and general manager, automotive. Since joining the railroad in 1986, Butler has had a number of positions including vice president, supply; vice president, planning and analysis; and director, corporate compensation.
He received a Bachelor of Science degree in mechanical engineering in 1981 and an Master of Science in industrial administration in 1986, both from Carnegie Mellon University in Pittsburgh, Pennsylvania.
Butler is a recipient of the Durham Western Heritage Museum African-American Heritage Award for business. He is a member of the Executive Leadership Council and sits on the boards of the Omaha Airport Authority, the Tepper School Business Board of Advisors and the National Association of Manufacturers. In his free time, he is an ordained minister serving at the Joy of Life Ministries in Omaha and also is an accomplished musician.