January 26, 2015
Art workshops, lecture Feb. 17, 18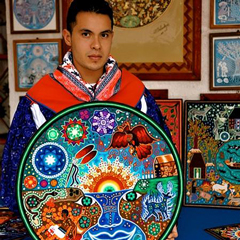 World renowned artists from Mexico, Cilau Valadez, a Huichol yarn painter, and Agustin Cruz Prudencio, a Oaxacan wood carver and painter, will present two art-making workshops Feb. 17 and three lectures Feb. 18.
Sign up now to attend one of the art-making workshops from 1:30-3:30 p.m. or 4:30-6:30 p.m. Tuesday, Feb. 17, in Bluemont Hall. There is no fee for K-State employees or students. Email Trina Harlow, College of Education art education instructor, at tharlow@k-state.edu to sign up for the workshops.
Lectures on Wednesday, Feb. 18, will be at 11 a.m. in 21 Bluemont Hall and 3 p.m. and 5 p.m. at the Beach Museum of Art. A reception for the public will be at 4 p.m. at the Beach Museum. The Strecker-Nelson Art Gallery is hosting a reception and trunk show from 6:30-8 p.m.
Please help us provide a warm Kansas welcome for these two artists. Also attending and part of the event is Nancy Walkup, editor of SchoolArts Magazine. The public is invited to all of these events.