January 22, 2015
'Handling Surveys and Interviews in NVivo' Jan. 30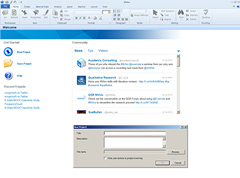 "Handling Surveys and Interviews in NVivo" will be offered from 1:30-3:30 p.m. Friday, Jan. 30, in 301 Hale Library. This session will focus on the use of NVivo to maximize analysis of surveys and interviews.
This presentation will address:
How to download information from electronic survey systems into NVivo directly from Survey Monkey, indirectly from Qualtrics.
Coding demographic information to nodes.
Coding individual respondents' information to nodes.
Using text styles to ingest textual responses to questions for autocoding.
Querying survey and interview data using NVivo tools.
The room will be open at 1 p.m. on for this event. All are welcome. The presenter will use the Windows version of the software. No RSVP is required. If there are any questions, please contact shalin@k-state.edu or call 785-532-5262.
Other scheduled trainings for spring 2015
"NVivo Basics" from 1:30-3:30 p.m. Feb. 20 in 301 Hale Library
"NVivo Advanced" from 1:30-3:30 p.m. March 27 in 301 Hale Library
"Tapping Social Media Data with NCapture and NVivo" from 1:30-3:30 p.m. Apr. 24 in 301 Hale Library
NVivo 10 site license: K-State has a site license for NVivo 10 software for both Windows and Mac systems for all faculty, administrators, staff and graduate students — allowed to have two downloads and installs of the software. The software and the activating license key may be accessed at k-state.edu/ID/KStateNVivoDownload with a current eID and password.
QSR international trainings: QSR International offers some superb video tutorials and both free and for-pay events.
An additional reference: Those who have already started using NVivo may want to refer to "Using NVivo: An Unofficial and Unauthorized Primer," which is an e-book built on the Scalar platform that highlights various features of the tool. This is an evolving e-book.