January 22, 2015
Touring theatre company to visit K-State, address current higher education issues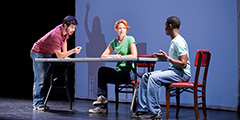 The acclaimed CRLT Players, a touring theatre company housed in the Center for Research on Learning and Teaching at the University of Michigan, are visiting Kansas State University Thursday, Feb. 5, for two performances that will address effective ways of handling real issues found in university classrooms.
The group creates research-based performances that examine current issues in higher education. Using a range of innovative theatrical techniques, the performances engage faculty, graduate students and university administrators in critical reflection, respectful dialogue and problem-solving.
The two sessions to be offered are "Conflict in the Classroom" and "7 into 15."
"Conflict in the Classroom," from 9:30-10:30 a.m. Thursday, Feb. 5, in Room 207 at the K-State Student Union, focuses on a conversation between students that moves quickly from civil dialogue to charged argument. It raises questions about how students' backgrounds affect the way they approach and engage course content, what constitutes subject-appropriate discussion, and what responsibility instructors have for productively dealing with conflicting perspectives that emerge in their classrooms.
"7 into 15," from 2:30-4:30 p.m. Thursday, Feb. 5, in the Union's Little Theatre, is a high-energy, interactive performance that can be adapted to address a range of topics. Consisting of short plays presented in rapid succession, this performance format uses a variety of innovative staging techniques to place the challenges of teaching and learning within the academy center stage. Provocative and often humorous, "7 into 15" is perfect for opening up conversations about the different ways individuals engage with and experience higher education. Versions of this sketch have been created to orient new graduate student instructors, to welcome new faculty into a teaching-positive culture, and to address graduate student climate concerns.
"We are fortunate to be able to bring the CRLT Players to campus for two sessions on issues frequently encountered in classrooms related to diverse student populations and institutional climate," said Beth Montelone, College of Arts & Sciences associate dean of research. "We hope that graduate teaching assistants in particular are able to attend, but others, including new faculty members, also are welcome to learn approaches toward inclusive teaching and learning. The CRLT Players visit is being supported by the College of Arts & Sciences instructional fee."
The CLRT Players have performed these sessions at universities and conferences around the nation, including Brown University, University of Chicago and University of Virginia.
Past viewers of have said:
"I wasn't sure what to expect from the theater format but it definitely facilitated a kind of conversation about classroom dynamics that was valuable and couldn't have taken place otherwise."
"A unique experience, very informative, and an excellent format to cover a number of relevant topics in short time — nothing short of amazing."
This event is sponsored by the College of Arts & Sciences. To RSVP, please email Karen Fader at kfader@k-state.edu. Seating is limited for the morning session.