December 19, 2014
Deadline today: Abstract submission for 2015 K-State Research Forum
Submitted by Graduate Student Council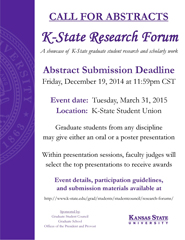 The Graduate Student Council is accepting abstracts for the annual K-State Research Forum, which will be Tuesday, March 31, 2015, in the K-State Student Union. The abstract submission deadline is today Dec. 19.
Participation is open to K-State graduate students from all disciplines. Students may give either a poster or an oral presentation.
K-State faculty members will serve as judges and will select the top presenters in a variety of categories to receive awards.
For more details please visit the research forums website for registration, abstract submission instructions and materials.